Another eternal end of shift happen yesterday in Alamo Georgia a small town of less the 2,000 people in Wheeler County Georgia. .
This individual took the life of an Officer who was reporting for his first shift as a Police Officer in this small town.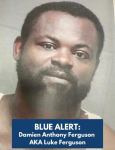 He killed this individual who was 26 years old and left behind a wife a small child.